FARS Activities & News
Read all the latest activities and news from Furness Amateur Radio Society
JANUARY / FEBRUARY 2023
The first club meeting of 2023 was a show and tell event where club members could show all the radio / electronics related items they had received for Christmas. In February Mike, M0MJX, held a presentation and demonstration of the VARAC data mode. Mike, and a few other club members, have been experimenting with this mode over recent month.
Members enjoyed the presentation on how to set up the software and radio, and were treated to a successful live demonstrations with a QSO into North America. Later in the month members attended a very interesting virtual meeting about a planned project to collect surplus kit to be transported to the Ukraine.
SEPTEMBER / OCTOBER 2022
In September, Furness Amateur Radio Society again operated GB2TDF to support the annual Tour de Furness cycle ride – which is a charity cycle event organised by the Rotary Club of Furness to raise money for St Mary's Hospice. From Barrow in Furness, the cycle route heads up to Coniston in the Lake District and back, the Furness ARS team support with communications as well as promoting the hobby to those in attendance at race HQ. Early September saw the last 2m fox hunt (ARDF) of the year, with teams competing to find the elusive 'fox' hidden in SD27 square. Later the month, club members were treated to an excellent presentation by John, G3WGV, entitled 'Design and Production of PCBs'. John gave a presentation on how to design PCBs using software, and then preparing the files ready to be sent off for PCB production – it was a very interesting presentation, and whetted a few appetites to get back into PCB design.
At the beginning of October, club members attended the 59th Model Railway & Transport Exhibition in Barrow in Furness. The event wasn't suitable for a special event station (the hall was too noise for SSB, CW etc), so range of kit was displayed and demonstrated, including an FT8 station (making 162 QSOs over the weekend, with a vertical antenna), HF SSTV receive station (with the ability to tune around the bands for those interested), selection of HF and VHF rigs, Ham Clock, and a DMR handie with hotspot. Plus the usual selection of display material and hand outs. There was even a specially commissioned N gauge train layout on display (complete with HF antenna!). This was one of the clubs most successful club events for promoting the hobby to the general public, and there were many visitors to the stand over the course of the weekend. The event was also the first airing of the clubs new callsign, G2DT. 2DT was first issued to the forefather of the Furness club 100 years ago, and it has been a privilege to be able to have the call (with the added prefix) issued to the club.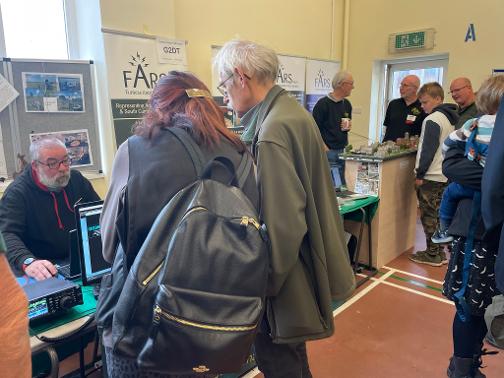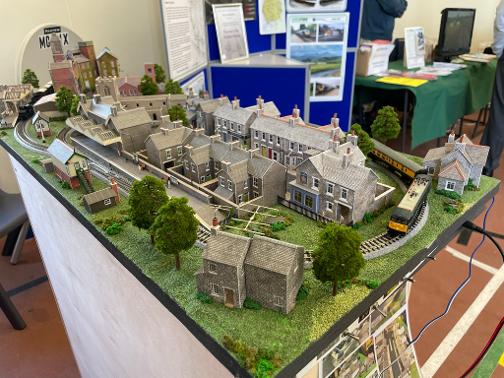 JULY / AUGUST 2022
In July FARS ran GB1CS at the Cumbria Steam Gathering in Flookburgh, using the FARS mobile shack and antenna trailer to hold an HF hex beam and 2m/70cm co-linear. In the shack was an IC7300 for HF, and a VHF Yaesu for 2m FM and a Hytera for 70cm DMR Simplex. An RPi4 for QRZ logging on a 23" monitor was set up using a 4G router with external antenna, knowing the signal can be poor on site.
Overall it was an excellent weekend although the QSO count was low it was more about face to face conversation than on the air. The set up worked very well and hopefully we will be back next year for the same again.
Early in July club members and their families gathered at Gleaston Water Mill for the annual FARS summer BBQ – this is another highlight of the FARS summer calendar and everyone who attended had a very enjoyable time.
Later in In July members gathered on Birkrigg common for a portable night. Birkrigg is a popular portable locations for many club members and a range of radios and antennas were on show. With a great VHF and UHF take off QSOs were had on 2m ad 70cm SSB as well as HF. A very enjoyable evening was had by all.
The beginning of August saw the first of this years 80m ARDF events take place. Always popular with club members and their children/grand children this 1 hour event takes place in a local wood, which is ideal for hiding the 6 ARDF beacons. Mike M0NJX set the 'challenging' course and Nick G0HIK was first back with all 6 beacons found and card stamped, with others finding between 3 and 6 of the beacons. It is hoped another ARDF event is held later in the year.
JUNE 2022
During the June Jubilee weekend members of Furness Amateur Radio Society operated GQ4ARF from the Gleaston Jubilee Village Fete.

With glorious weather and a brilliant setting, it was great to be able to operate in a community setting where club members felt totally at ease and able to showcase what amateur radio is all about. The general public attending the fete were very accommodating and were asking plenty of questions about who we were making contact with, and how it worked. Although band conditions were not great, a very enjoyable weekend was had operating into Europe and the UK (HF and VHF). There were a total of 73 contacts in the log (CW 40, FM 13, SSB 20)
GQ4ARF special event turned out to be a long but worthwhile weekend that encouraged more people to enjoy the hobby of amateur radio. Furness ARS would like to thank everyone who turned up and made the weekend an enjoyable experience and to all our contacts who managed to get through on any mode, well done and thank you for taking the time to work GQ4ARF.
The late June meeting was a 2m Fox Hunt in SD27 square. The SD27 Fox Hunt is one of the highlights of the summer activity calender and members enjoyed a nice evening hunting the elusive 'fox' in a remote part of the square. In other news, Chris M0KPW, enjoyed a very very windy Sunday out portable for the 2nd Backpackers content in June from SOTA G/LD049 (Kirkby Moor), thanks all those who came back to the calls.
After several years of trying and lots of research by Dave G3VUS and Chris M0KPW, Furness ARS managed to secure the call sign G2DT as a club call. '2DT' was originally issued to Barrow and District Wireless Association (A forerunner of Furness ARS) in 1923, it has been a long held dream to be able to secure the '2DT' call for the club and finally all the stars aligned to enable Martyn, M0TEB, to work with Ofcom in securing it for the club. Members looking forward to activating the call at various events in the future.
MAY 20122
At the beginning of May members of Furness Amateur Radio Society spent a day doing maintenance on the clubs caravan, or mobile shack, in readiness for this years activities.
The first event of the years using the 'mobile shack' was the annual Mills on the Air, operating GB2GW from Gleaston Water Mill, which is owned by club member Mike G8ALE and his wife Vicky. It was nice to be back on site for the mills weekend after 2 years away. Club members operated on both Saturday and Sunday using the club Icom IC7300 a 40m trapped dipole, Gwhip and an endfed antenna. It was a nice relaxing weekend, contacting other special event stations with 25 Mill to Mill contacts made from a total of 50 stations in the log over the two days. Some antenna tests were also carried out and refreshments were enjoyed on a wonderful sunny weekend.
Everyone who attended really enjoyed the days and the camaraderie from the club members was enjoyable. The social and refreshments were on hand from the café and the weather was sunny and warm which meant a few of our members were eager to enjoy a nice relaxing afternoon in the sun.
The club meeting of the 11th May was entitled "Ship AIS Project". After a recent visit by the club to Duddon Inshore Rescue it was felt we would like to provide them with an AIS screen to enable the location of the boat to be monitored from the watchtower.
AIS is like a virtual RADAR, whereby boats broadcast their location using the VHF marine Band.
During this meeting a project plan was created and members were introduced to the AIS system. It is envisage this will be a club project, with the main system provided to the boathouse, but individual members may wish will build a system for themselves. More on this project as it develops.
Later in the month members took part in the annual SOS Radio weekend, operating GB5LBC, in support of Barrow lifeboat station – HF band conditions were not particularly good, but over the course of the weekend 89 QSOs were logged on SSB and CW. Members operated again with the clubs IC7300 and an end-fed aerial, and used N1MM for logging – everyone involved had an enjoyable weekend.
APRIL 2022
The Furness Amateur Radio Society meeting on 13th April was titled "USB Power Modes", this was given by Chris M0TES. This was an interesting talk starting with the history and development of the computer USB interface. Chris informed us that USB was initially a data interface with power capability, but is now more of a Power interface with Data capability. He brought along an interesting collection of Power Supplies and Batteries, members were all surprised that USB can now supply up to 100 watts of power and is so versatile.
The postponed 2021 Christmas quiz took place on Easter Monday, where members and their families met at the Farms Arms in Newton-in-Furness to enjoy the annual 'Christmas Quiz'. Dave, G3VUS, set the usual assortment of questions and was quiz master. Postponed due to the high Covid rates in December, the eagerly awaited quiz generated a good turnout and thoroughly enjoyed by all.
Members activity reports : Nick G0HIK reports that he was recently out portable and worked the same station in Cheltenham on 2m and 10ghz from the Furness area. Nick reports that the station was was stronger on 10ghz than 2m, and as he keep saying, radio is so surprising! Chris M0KPW has recently got up and running on QO100 and reports some nice 'DX' including Kenya, Senegal, Pakistan and Indonesia. Ray G0TUE continues to be busy with HF portable activity when his works shifts allow and is often seen (and heard) on the HF bands enjoying some QRP CW.
FEBRUARY / MARCH 2022
The club meeting of the 23rd February clashed with an invitation to the club from the local Rotary for an awards evening. The Rotary have been running the annual "Tour de Furness" cycle event since the 1990's and have raised almost £500,000 in that time.
Furness ARS have run the radio communications for the event for several years as there are mobile phone black spots between Barrow-in-Furness and Coniston. We usually have a control station at the race HQ in Barrow, with other stations based at Gleaston Water Mill, Birkrigg common near Ulverstion, Coniston village, on a fellside high above Coniston, and we also put a station with the mobile mechanic. All club members enjoyed the evening, especially the buffet and few drinks afterwards. We have been invited to provide communications again this year, and members look forward to assisting in September.
The early March meeting had to have a change of date and location due to a water leak at the usual venue. Fortunately Nick, G0HIK, was able to offer the meeting room at Duddon Inshore Rescue at short notice, and club members attended to discuss and plan the club stand for the NARSA Blackpool rally in April. It was a productive evening with members coming up with plenty of suggestions and ideas for this years rally.
Later in March, Chris, M0KPW, gave a presentation entitled '2021… my actives on VHF and above' which covered topics such as SOTA, 144MHz Backpackers contests and the 2m, 70cm and 23cm UKAC's which Chris had taken part in. This was a light hearted and lively presentation, with the 'good', 'the bad' and 'the ugly, of taking part in such activities.
JANUARY / FEBRUARY 2022
In January Furness Amateur Radio Society enjoyed a presentation by Dave, G6HEF, on his exploits in Earth-Moon-Earth (EME). Dave went in to detail of the station he has sent up, including building a 3m dish from scratch, and how to operate 23cm EME – everyone who attended really enjoyed the talk. In other 'microwave' related news, a number of club members have got up and running on the QO-100 satellite in the last couple of months, meaning lots more microwave RF will be coming out of IO84 square!
Later in January, club members brought along new radio related 'toys' to show, and also discussed new projects that were being worked on.
On the 9th February, the meeting was entitled "Planning the way forward in 2022". After the two years enforced 'change of conditions' due to Covid the committee were looking for suggestions as to what the membership are wanting from the club moving forward. Items brought forward from the membership probably mirror what most clubs are thinking about, including Communication and Planning, Future events and meetings, Club membership interaction and increasing membership.
Some good points were raised and some constructive discussions followed, all of which will be used to shape the future of Furness ARS, and we are all looking forward to the usual packed year of events which will include, Technical meetings, outdoor operating, special events, 2m Foxhunts, 80m ARDF, Socials meetings at the Farmers Arms Pub, the annual summer BBQ, Rally attendance and much more.
DECEMBER 2021
In early December Furness Amateur Radio Society held a 'CW Taster Evening' for one of their club nights. Club members were encouraged to bring in their Morse keys, paddles and other kit. One piece of kit which attracted a lot of attention was the 'Morserino-32' which is a multifunctional Morse Code device (Keyer, Trainer, Decoder and Transceiver) ideal for learning and practicing Morse Code. Everyone agreed, it would make a good addition to most shacks.
Two club members, Nick G0HIK and Dave G6HEF, travelled to the Microwave Group round table at Eaton Manor on the 5th December. Both said that they enjoyed the event which offered technical talks, equipment available to test your projects for noise figure etc and a Bring and buy. It was good to put a few faces to the call signs that had only been worked before.
Due to changes in Covid restrictions and an increase in cases both locally and nationally, it was decided to postpone the annual FARS Christmas quiz which was due to take place in mid December. This is one of the highlights of the Furness ARS calendar, and it is hoped it can take place in the New Year.
OCTOBER AND NOVEMBER 2021
On Wednesday 13th October, Furness Amateur Radio Society once again met at the Hawcoat Park Sports Club in Barrow-in-Furness, this time the title of the evenings talk was QSO Mapping by Mark M0NOM.
The talk started with the use of "Fast Log Entry" (FLE) particularly for SOTA activations, but also for general logging. This led on to using the ADIF Processor which Mark has written, which produces a great looking model of the propagation paths of worked stations.
We spent the evening trying to break the software to find bugs, but it worked wonderfully. Everyone was very impressed with the work done and the evening ran later than usual as there was so much interest. There is a link to the software on Mark's QRZ.com web page.
October also saw JOTA, with Chris M0KPW helping local cubs and scout take part in this annual event. Numerous COVID related precautions were in place (including operating outside in tents) and the event was a great success.
The next meeting at the sports club was on the 27th October, where we were treated to a talk, Receiving QO-100 on a Budget, by Nick G0HIK. Nick has been using the QO-100 Satellite mainly for SOTA activations for nearly two years and his enthusiasm for this mode really shows. Club members were particularly interested the equipment that was demonstrated and the Web SDR for receiving. Since the talk at least four club members have made a start on getting going on this mode.
November began with the 2021 AGM, where Chris M0TES was re-elected as Chairman, Mike M0MJX was re-elected as Secretary, Martyn M0TEB was re-elected as Treasurer and Andrew 2E0TEJ was re-elected as Exam Secretary and Ray G0TUE was newly elected to the committee. The committee look forward to serving the club for the year ahead.
Later in the month the club ran a DMR workshop, to help members sort out any problems with the PMR radios, code plugs and the like – it was successful evening with many members getting issues sorted and joining the new FASR DMR Net.
SEPTEMBER 2021
2021 Railways on the Air...
Saturday 25th September 2021 : A great team effort for GB4LHR at Lakeside and Haverthwaite Railway Special event station. Saturday Team consisted of Chris M0TES, Mark M0NOM, John M7ATV, Tony 2E0TXH, Dave G7MCE and Ray G0TUE). Once the station was up and running, band conditions on 40mtrs were changeable with some long periods of heavy traffic, many stations calling, and sometimes we were met with a wall of sound and it became challenging even picking 2 letters out and we worked through them as fast as we could log them.
Quite a few were other Railway special event stations. Over a 110 calls were logged by the team, and it could have carried on if it was not for the restrictions of our location, close down was 16:00hrs local. Weather was cloudy with odd rain showers, not that we really noticed, John M7ATV was pushing everyone along and showing us his logging skills. Mark set up his 20mtr data setup, conditions on 20mtrs were challenging, and Mark will try again Sunday.
Sunday 26th September 2021 ; Another great team effort for GB4LHR at Lakeside and Haverthwaite Railway Special event station. Mike M0MJX, Martyn M0TEB, John M7ATV, Chris M0TES and Tay G0TUE. The station started at approx 09:00 and we were straight into some good European propagation, plenty of stations in the log in the morning session (09:00-12:00), approx 40 plus stations. Weather was overcast with some light showers, but brightened up towards the end of the session.
Logging for the vast part of it was by John M7ATV, who spent most of the weekend logging, which makes operating much easier when the paperwork side of things is taken care of. Everyone was operating the GB4LHR station, either chatting, logging or keeping the station on air.
The 40mtr band was changeable today, very busy earlier in the morning with a lot of European stations all very close together, the IC300 performed very well and coped admirably with the adjacent frequency QRM. The station closed down at 12:00hrs Sunday due to members having other commitments and the caravan needed to be stowed, but that didn't stop Mark M0NOM from setting up his PeliTRX and Super Antenna in the back of his car, running about 100watts on 20mtrs and 150w on 40mtrs Mark managed another 30 contacts as GB4LHR which included another 2 Railways on the air stations.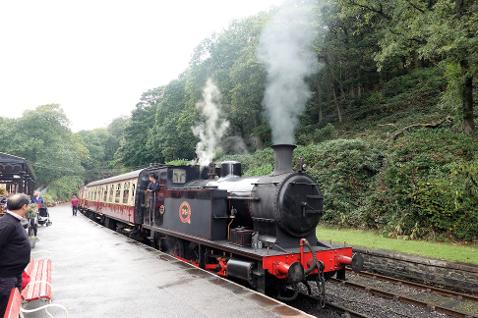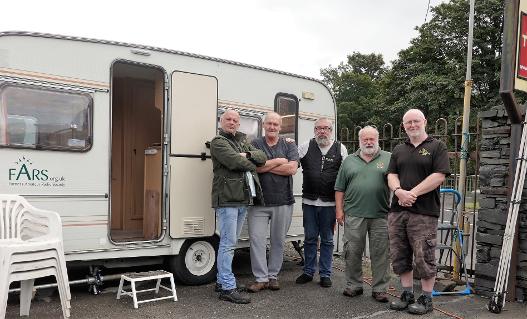 AUGUST 2021
In August members of Furness Amateur Radio Society were invite to Duddon Inshore Rescue in Askam in Furness, Cumbria, for a tour of the facilities and a talk on the history and operations of the centre by Station Officer Ian and Crew Member Nick, G0HIK.
Members were given the chance to have a detailed look over the £65,000 D-class lifeboat and launch tractor, as well as the other emergency vehicles including 4x4 pick up truck and Quad Bikes. The radio and navigation equipment was of particular interest to members, as was the chance to visit the control tower which offers spectacular views of the Duddon Estuary and surrounding area.
Duddon Inshore Rescue was formed by a group of volunteers in 1969 after a number of deaths in the Duddon Estuary highlighted the need for a water and sand based search and rescue team in the Duddon Estuary. Land was donated to the Inshore Rescue so they could erect their boathouse in 1969 ensuring ease of access to the water and a local base for storage of equipment and training purposes. Over the years Duddon Inshore Rescue has continued to grow and develop thanks to the support of their local community (the service receives no official funding, and is a registered charity, so is fully funded by donations) and its volunteers who continue to be on-call 24 hours a day, 7 days a week throughout the year.
Following the tour, club members enjoyed tea and biscuits and a lively Amateur Radio themed quiz by Chris M0KPW. The winner taking home a donated box of biscuits. A very enjoyable evening was had by all those who attended. Furness Amateur Radio Society and those attending made donations in support of Duddon Inshore Rescue and look forward to visiting again in the future.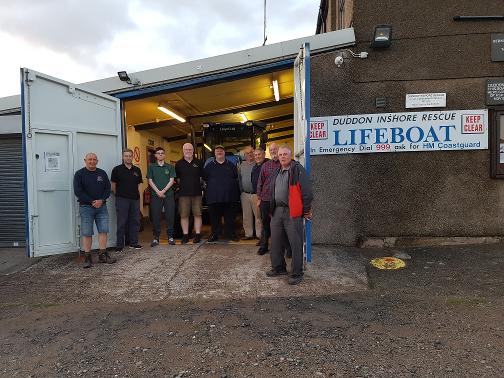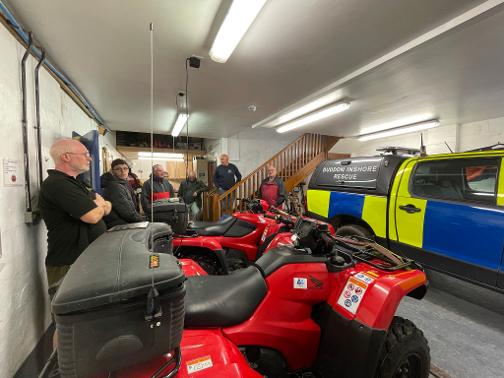 JUNE / JULY 2020
Furness Amateur Radio Society has continued with weekly virtual meetings throughout May, June and July.
As well as general virtual 'chat' meetings where members talked about what projects and activities they had been up to during lock down a number of virtual meetings were centred around the recent VDSL work and thanks to Chris M0TES for some excellent talks and demonstrations on this topic. Chris M0TES also visited the postcode of many club members to take VDSL readings using an SDR with a mobile whip and laptop. With social distancing in mind, this was all done from the safety of his own car - the readings were taken from the street outside members QTH's. The files were then made available to each member so they could see the readings for their locality.
JANUARY 2020
In early January members of Furness Amateur Radio Society were treated to a talk and demonstration of 3D printing by Mike M0MJX. Before the start, club members were given an 'insulator' which had been 3D printed by Mike and he then went on to show how to design the insulator using 3D software. It was interesting to see how the insulator is designed in 3D using various shapes and tools. Whist the demonstration of the software was taking place, one of two 3D printers on display was printing an insulator in real time. Everyone was impressed with the results and all went away with 2 insulators ready to use on their next antenna project.
Later in the month was an update on the clubs 80m ARDF kit which has been checked and reprogrammed over winter and is now ready for the 2020 season of club ARDF events. During the drier days of January, club members were mustered for a couple of days maintenance on the clubs caravan / mobile shack – winter storms had damaged the sky lights so these were replaced and other maintenance was carried out.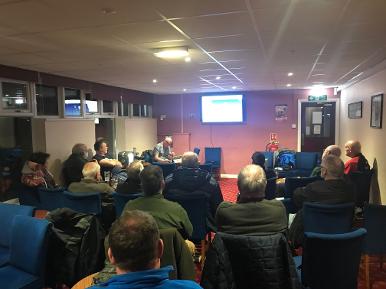 Nick G0HIK and Chris M0KPW were please to get Furness ARS to finish 9th in the General Club Scores section of the 2019 23cm UKAC. Their area of IO84 square meant portable operating was required. Operating for only an hour or so each month, and some months only one was able get out portable, a score of 8,886 was achieved – which is not bad going give the limited time available on each evening.
DECEMBER 2019
In December Nick G0HIM gave an interesting talk and demo on testing SWR meters and dummy loads. Club members were encouraged to bring along their own SWR meters and dummy loads for testing, a wide variety of kit was brought in, both home brew and bought and it was interesting to see how some of the meters and loads were more accurate than others.
The last meeting of the year was the annual Dave G3VUS Christmas Quiz held at the Farmers Arms in Newton. The quiz is one of the most anticipated in the clubs calendar and the event was very well attended, there were some tricky questions but all teams faired well, with the winners receiving the coveted box of Roses chocolates. The club thanks Dave G3VUS, as always, for a great evening.
OCTOBER & NOVEMBER 2019
In October Furness Amateur Radio Society held a club meeting on the new exam syllabuses, where members took a mock exam (where everyone passed !) and discussions were had on creating new training material. It is planned that the club will be ready to train at all levels with the new syllabus in the new year.
Later in the month Chris M0TES gave a presentation on the clubs 80m ARDF kit, followed by a service of the TX and RX kit and some changes were suggested, including changing the timings and the pattern of the CW callsign and beacon ID on the TX units.
In November the Furness ARS 2019 AGM was held, where there was good attendance and the committee was elected to serve for 2019/20. Chris M0KPW stood down after 4 years as club Secretary, with Mike M0MJX taking on the Secretary position. The rest of the committee comprises Chris M0TES as Chairman, Martyn M0TES as Treasurer, Andrew 2E0TEJ as Exam Secretary and Chris M0KPW as Webmaster who all look forward to serving the club for the next 12 months. At the end of November FARS members attended a lecture at the Forum in Barrow-in-Furness on metal 3D printing - unfortunately the lecturer was held up due to problems with the trains at Preston so the planned lecture did not go ahead, but club members we treated to an alternative lecture on the 'Origins of the Universe' which proved to be very entertaining and interesting.
SEPTEMBER 2019
In September members of Furness Amateur Radio Society operated GB2TDF for the annual Tour de Furness charity cycle event. This is a 50 mile route from Barrow in Furness, through to Coniston in the lakes and back. As well as running a special events station, members also assisted with some minor communications for the event. The following week the last 2m 'Fox Hunt' of the year took part in the SD27 square. The 'fox' consisting of Chris M0KPW, Martyn M0TEB and Andrew 2E0TEJ who were hiding at the beach car park in Askam in Furness. Congratulations to Nick G0HIK and Dave G3VUS who found the fox in just under 20 minutes and will be the 'fox' for the first event of 2020.
Later in September members resumed their 'indoors meetings after the summer months of 'outdoor / portable' meetings. The first meeting was a 'show and tell' of what project, activities, and purchases members had made on over the summer.
September also saw GB2LHR operated from Lakeside and Haverthwaite Railway for ROTA weekend.
The railway is located the picturesque Leven Valley at the southern end of Windermere; and is a historic branch line (originally opened in the 1870s) which has been a popular tourist attraction since the 1970's. Using the clubs caravan as a shack in the station car park, a doublet and TS570 working was mostly on 80m with occasional dips to 40m - 167 QSOs were had over the weekend of which 19 were other ROTA stations. A club member set up a Fusion hotspot and he separately worked 10 stations of which 4 were ROTA stations. A great weekend was had by all, with great weather on the Saturday, but rain on the Sunday.
JULY / AUGUST 2019
July was a busy month for Furness Amateur Radio Society. Throughout the month training courses took place for both Foundation and Intermediate levels. Due to logistics the traditional foundation weekend was split over 2 weekends, with intermediate training taking on various weeknights throughout the month. Everyone who sat the course were successful in their exams, with 2 passes at Foundation and 2 passes at Intermediate. Another success was the reissuing of a club members G6 call that over time had lapsed. Unfortunately, he had no evidence of the RAE pass from 30 years previously – after some research Ofcom were eventually able to locate the required evidence and the G6 call was reissued.
In addition, 3 advance exams were held, with three shiny new 'M0' calls being achieved. A great amount of organisation and work went into making all 3 exam levels a success and it could not have been achieved without the support and dedication of club members – many thanks to all this involved.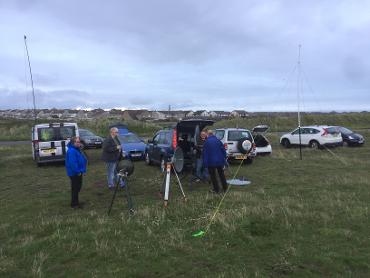 Later in July members attended the Cumbria Steam Gathering, and operated GB1CS. For over four decades, the Cumbria Steam Gathering has been bringing together vintage vehicles from far and wide to South Cumbria for one massive summer gathering. The station for GB1CS was set up on the Friday afternoon and comprised the clubs caravan / mobile shack, a hexbeam antenna, IC7300 and other equipment. This year we were located very close to the entrance and main stalls which resulted in a great amount of footfall visiting the station on the Saturday and Sunday who saw demonstrations of amateur radio. Plus, a visiting ham from VE stopped by for a chat. Although the bands were no in great shape contacts were made on HF, 6m and 2m (including some SOTA stations). The hexbeam antenna was a visual draw for people who came along to see what it was.
The annual summer BBQ was a great success this year, with a bigger than usual turn out of members. The weather was on its best behaviour with glorious sunshine all evening long. The BBQ takes place at Gleaston Water Mill, which offers a picturesque setting where members can enjoy the BBQ food as cooked by mill owner Mike, G8ALE. There were also a number of SK items brought along for a sale, where there were some great bargains to be found.
In early August a cheque was presented to Barrow Lifeboat station for £650, which was monies raised during May's SOS radio month. In total over £6000 has been raised in recent years for Barrow Lifeboat with the annual SOS weeks, congratulations and well done to all those members who take part and raise money for such a worthy cause.
August also saw a portable meeting take place near the beach on Walney Island, Barrow. After raining all day, the rain stopped in time for members set up an array of antennas and equipment from HF to microwaves. There were HF dipoles, loop and vertical antennas, VHF whips and hand helds, dishes and panel antennas for the microwave bands. It was one of the biggest arrays of antennas and kit for a portable meeting in a long time, with contacts had on FM, SSB, CW, Satellite, Digital and ATV.
JUNE 2019
In June, some hardy members of Furness Amateur Radio Society braved the light rain to take part in an 80m ARDF event in the 58 acre Seawood on Birkrigg Common, near Ulverston. A course was set with 5 club-built 80m beacons, and with 3.5km of pathways running through the woods, the course proved challenging (and fun) in the wet conditions. Using handheld PJ-80 80m receivers (again built by club members from kits) the beacons were found within 35 minutes to an hour. There were some new members who had not taken part in ARDF before and they enjoyed their first experience at 80m direction finding. Retrieving the beacons at the end proved to be an 'event' itself when the wx took a turn for the worse and the heavy rain and darkening sky made the retrieval hunt even more difficult.
MAY 2019
Members from Furness Amateur Radio Society attended the NARSA radio rally at the Norbreck Castle Hotel in Blackpool at the end of April. The rally was well attended, with many visitors popping by the FARS stand. Members sold surplus kit, and there were plenty of bargains to be had from the stalls at the rally. Everyone who attended had a very enjoyable day. May was a busy month with club members attending a portable evening on Birkrigg Common (IO-84-KE) at the beginning of the month, where portable stations on HF and 2m FM operated, plus 23cm and 13cm SSB contacts were made.
The middle of May saw the annual Mills on the Air event, and a team from Furness ARS operated GB2GW from Gleaston Water Mill as usual. Band conditions were pretty poor on both 40m and 80m, but sheer determination helped bring in the QSOs, which include 10 other UK mills and 1 Dutch mill. The late May meeting was a 2m DF Fox Hunt, with a number of teams heading out into the SD27 to hunt the elusive 'fox' - photo shows FARS members who took part on the SD27 DF fox hunt.
The last 2 weekends of May saw members participate in the annual SOS event from Barrow Lifeboat station – where again conditions were difficult on HF, but more perseverance helped bring the QSO count up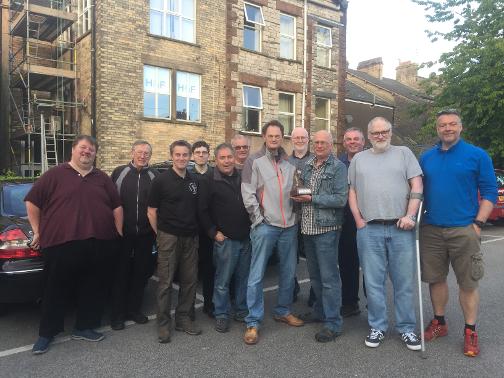 APRIL 2019
In April, Furness Amateur Radio Society held a sale of kid donated to the club. 10 large boxes of various bits and piece had been donated by a friend of a club member. With much excitement the 10 boxes were opened, and their contents spread across the tables laid out. It was like a mini rally with club members sorting through smaller boxes, packets and kit. There were components, project boxes, wires and cables, connectors, VHF / UHF antennas, PCBs, PSUs, books, and all sort of other items. By the end of the night members took boxes and bags full of kits home and the club made over £120 in donations. What didn't sell was sorted, packed and made ready to take to the NARSA rally at Blackpool at the end of April.
FEBRUARY 2019
In mid February club member Mike sat and passed his intermediate exam with Furness Amateur Radio Society. Mike mostly self taught, with club exam secretary Andrew M6GUM and Treasurer Martyn M0TEB arranging and invigilating the exam, whilst a few week earlier Mike completed the practical assessment with assessor Chris M0KPW. By now Mike will have his new 2E0 callsign and is already starting to work on the full licence.
Later in the month Chris M0TES gave an interesting talk on aspects of earthing (or grounding) for the radio amateur. Be it electrical earths for equipment and construction, or RF earths for antennas Chris gave some very interesting insights on 'all things earth' and it generated a great deal of discussion between the members present.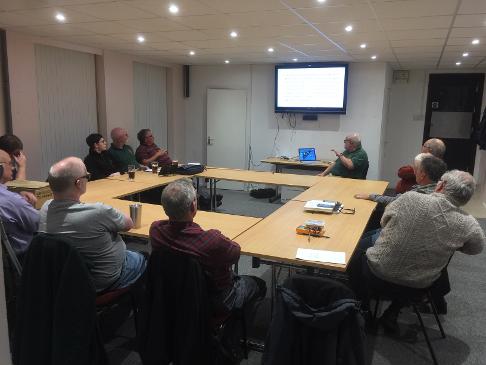 JANUARY 2019
Follow their success with 5.6GHz ATV in 2018, Chris M0KPW and Nick G0HIK from Furness Amateur Radio Society had been busy at the end of the year building new portable 5.6GHz ATV stations suited to being packed into a rack sack and taken out portable and for SOTAs. On the 2nd of January both Chris and Nick braved the cold and headed up separate SOTAs (G/LD030 and G/LD049) to try for a summit to summit QSO. Both summits are in good line of slight and only 12km apart, so successful 2 ways ATV contacts were achieved with P5 signals each way. If anyone is interested in working a SOTA on ATV please get in touch!
The early January meeting of Furness Amateur Radio Society was a video of a talk done many years previously by Ivan G3IZD on the topic of working a DXpedition. This was recap for those who watched it 'live' many years earlier and was seen fresh by those who did not watch it first time round. Ivan explained the best chances for getting a rare DXpedition station in the log such as working split, choosing the best 'time' to work them (if you've got 100w and a dipole, there's little to be gained trying to fight your way through the 'big guns' with linears and beams in the first week) and the best antennas.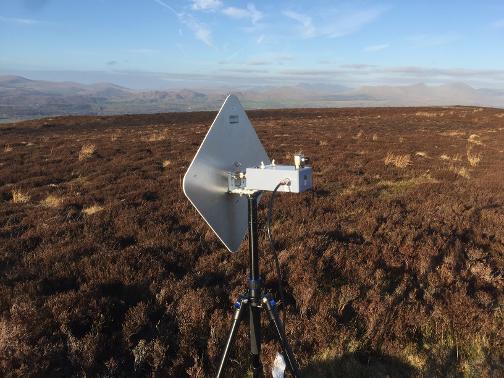 Later in the month there was a show and tell event, where club member brought along kit they had built, recently bought or been delivered by Father Christmas. Items included 23cm and 13cm transverters and antennas, kit for receiving satellites, HF and VHF Clansman sets, construction project to be used for an intermediate exam, oscilloscope kits and a whole lot more. The show and tell event generated a great amount of discussion and interest.
DECEMBER 2018
The last December meeting of Furness Amateur Radio Society was a talk and live demo of Software Defined Radio by Chris M0TES, this was accompanied by Christmas nibbles. The event saw a good turn out of club members who enjoyed the demonstration and nibbles in equal measure. After the talk members were able to 'play' with the different SDRs that had been used for the demonstration to allow them to get a hand on feel for how they work.
The busy year came to an end with the annual Dave G3VUS Christmas Quiz – a general knowledge quiz for club members and their families, held at the Farmers Arms in Newton in Furness. Dave puts a lot of effort into the quiz, ensuring the is a wide range of questions to suit everyone's tastes. The quiz is always well attended and is one of the highlights of the Furness ARS calendar.
NOVEMBER 2018
November saw the 2018 AGM for Furness Amateur Radio Society, where the majority of the committee stood for re-election and were re-elected for another 12 months. The committee consists of Chris M0TES as Chairman, Chris M0KPW as Secretary, Martyn M0TEB as Treasurer and Andrew M6GUM as committee member and Exam Secretary. During the AGM a certificate of thanks and bottle of Lambs Navy rum were presented to Bill G4USW who has been the clubs QSL manager for over 25 years. Bill has decided it's time to retire from QSL duties and take a well earnt rest having worked tirelessly over the years producing and administering QSL cards for all the club's special events and activities.
A foundation weekend took place in November, where candidates undertook 2 days of tutoring and the practical assessment followed by the exam which was taken online by all candidates. Congratulations to those who passed, and we look forward to hearing those new M7 calls on the air soon.
At the end of the month Chris M0KPW did a talk and presentation of his, and Nick's G0HIK, SOTA recent activities. 16 activations were made in late August and throughout September in the Lake District and North Pennines. It was a light hearted look at the routes taken to the summits, kit used, QSO counts and a few too many photos !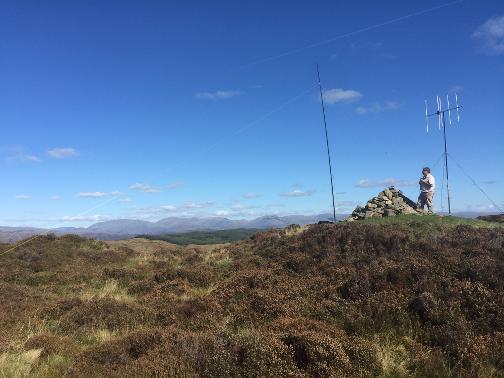 OCTOBER 2018
In early October, Furness Amateur Radio Society put on a special station, GB9SL, to celebrate the life of Stan Laurel (of Laurel and Hardy fame) - arguably one the areas most famous sons. The event was to help celebrate the 30th annual Oliver Hardy Festival in Harlem, Georgia, USA (the birthplace of Oliver Hardy). A team of American radio hams from The Amateur Radio Club of Columbia County (ARCCC) made contact with Furness ARS to see if they would put on a companion station in the UK. What better location than the beautiful Gleaston Water Mill to use for this special event - just a few miles away from Stans birth town of Ulverston, in South Cumbria. Furness ARS set up a hex beam antenna, and their IC-7300 plus a club members Elecraft linear for 400w output. Band conditions were not fantastic, but perseverance on both 20m and 30m resulted in QSOs from South America, North America and all over Europe.
Best of all the team at GB9SL were able to make contact with the U.S team (W4O) in Georgia, USA during the festival to pass messages to each other to celebrate Laurel and Hardy.
Later in the month, GB2FSR was set up from the 17th Barrow St Perrans scouts for the annual JOTA weekend. Members from Furness ARS operated on 40m HF to assist the cubs and scouts in sending greetings messages. With just one day of operating, 20 other JOTA stations were worked (plus many other none JOTA stations), with dozens of greetings messages passed and received. One QSO with a station in the Netherlands lasted over 1 hour, with the messages being translated from English into Dutch for the Dutch scouts to understand. Other activities included a CW practice station, creating their own phonetic alphabet and a 5.6GHz 'helmet-cam'. The helmet-cam is always a popular draw at JOTA... one scouts wears a helmet with a camera and transmitter and is sent out into the field, whist other scouts watch the received signal on a TV, and use a directional antenna to improve the signal in the scout hut. PMRs are used to allow the scouts to communicate with each other.
SEPTEMBER 2018
Furness Amateur Radio Society held their final 2m fox hunt for the year in early September. The winners were Nick G0HIK and Dave G3VUS in less than 15 minutes. They only needed to take 3 bearings before finding the fox hiding under the railway bridge. There were 6 teams out, which is the highest number for a long time and it was good to see some new 'faces' take part. With the dark nights now upon us there will be no chances for any more fox hunts until the spring. Also in September there was a 'what I did over summer' meeting where club members brought in projects they had been working on over the summer and told stories of activities and QSOs they had over the summer months.
Furness ARS was represented in this years RSGB SSB National Field Day by Ivan G3IZD and Stewart G3RXQ. The event, which took place at the beginning of September, used the call sign G3RXQ to enter in the Fixed Station category. The contest results have yet to be published. However, a position at or very near the top is expected.
Furness ARS took part in the annual Railways on the Air weekend in September from Lakeside and Haverthwaite Steam Railway in Cumbria. Using GB2LHR the team operated across both Saturday and Sunday from the club caravan using a doublet antenna and a Kenwood TS570DG. Band conditions were not the best, but perseverance resulted in 65 QSO's in total in 15 countries as well as 7 other ROTA stations.
AUGUST 2018
Furness ARS held their second (and last of 2018) 80m ARDF event at the beginning if August, again in Seawood near Ulverston.
A friend of a club member was co erst into setting the beacons out - and after half an hour he returned (some what warn out from running through the woods) and the course was set. Club members set out with their 80m receivers and the 5 beacons were found within 35 to 55 minutes - some were hidden 'well off the beaten track' and took some finding.
The last August meeting was a portable meet on Birkrigg common (IO-84-KD) where club members set up a range of antennas and radio kit.
These included portable trapped dipoles, vhf yagi's, 6m whips and hf whips. Members worked stations in Europe on 6m SSB, Europe, Oman and the USA on 20m SSB, and local 2m FM. There was even some 23cm digital and FM ATV reception tests carried out.
An enjoyable evening was had by all, and the perfect way to end the years 'outdoor' meetings before the darker nights force club members back indoors for the winter series of talks, demos and presentations,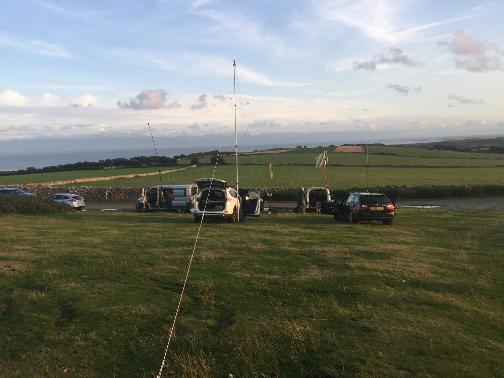 JULY 2018
At the end of June Furness Amateur Radio Society members Chris M0KPW and Nick G0HIK achieved a great result on 5.6GHz ATV of a distance of 159km from G to GI.
Chris and Nick were located on Corney Fell in South Cumbria (IO84IH), with John GI7UGV at Scrabo Tower, Northern Ireland (IO74DN). This was the 3rd time we'd tried this path, and it was a case of 3rd time lucky (although John had moved locations slightly to somewhere with less RF noise). Picture quality was between P5 and P3 both ways using 'bearfoot' of 600mw and with linears of around 2.5w. We believe this was the first G to GI on 6cm ATV 2 way QSO and just pipped the current distance record by 1km !
A week later another G to GI path was attempted, this time at 180km. Again with Chris and Nick at IO84IH but this time with Geoff GI0GDP in Northern Ireland (IO74AU). Pictures were not perfect but good enough to confirm reception both ways between P3 and P4 with deep fading. Poor Geoff had strong wind conditions and had to keep one hand on the dish, whilst trying to operate ATV and 2m talk back with the other, so well done to him.
A bank of cloud was visible in the distance so signals were being attenuated. We feel sure that much better results can be achieved under the right conditions in the future.
To think that at the core of these systems are cheap PFV drone TX and RX units, but with some ingenuity distances of 180km are achievable which is truly remarkable.
Later in the month Nick G0HIK and Jim M0KYL, travelled to Arran for a long weekend to play radio. On the 14th Nick setup for an ATV sked on 5.6GHz with two GI stations, Geoff GI0GDP and John GI7UGV, who were operating from Knock Dhu. Good signals of P4/5 were exchanged both ways at a distance of 80kms.
Late July saw club members and their families gather at Gleaston Water Mill (which is owned by club member Mike G8ALE and his XLY Vicky) for the annual FARS summer BBQ. The weather was kind to us and an enjoyable evening was had by all.
The last weekend of July saw club members attend the Cumbria Steam Gathering at Cark airfield near Grange over Sands. The Steam Gathering is a popular annual attraction and attracts 1000s of visitors over the 2 days. The station was more a demonstration of the hobby than a special events station, and attracted a great deal of attention. Look out for a more detailed report soon !
JUNE 2018
June saw Furness Amateur Radio Society hold it's first 80m ARDF event of the year. Chris, M0KPW, set a challenging course in the 58 acre Sea Wood, located just south of Ulverston in South Cumbria. There are over 3.5km of pathways through the woods, so there is plenty of space for setting out a course. The starts time was 19.20, and the first competitor to find all 5 hidden TX beacons was Andrew, M6GUM, in around 45 minutes. With Les, 2E0LBI, coming in a few minutes later. The event was scheduled to last for 1 hour and by the end, everyone who took part had found 4 or 5 of the beacons. It took another 30 mins at the end of the event to DF the beacons to bring them back home again ! Another ARDF event will take place in Sea Wood later in the summer.
Late June saw a number of candidates take part in a Foundation course weekend, of which there was great success and passes. Thanks to those who gave up their time to make the course a success and we hope to hear those new M6 calls on the air soon !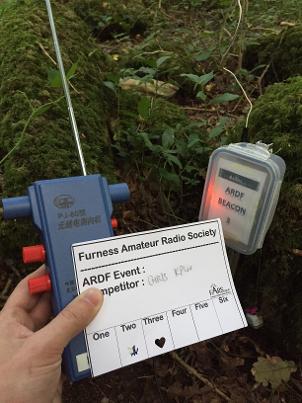 MAY 2018
May was a busy month for Furness Amateur Radio Society. With the annual SOS event being moved from January to the entire month of May, members from FARS activated GB5LBC from Barrow Lifeboat Station for 2 weekends.
The first weekend saw 109 QSOs for both days with 16 countries. 3 other lifeboat stations were worked : Isle of Hoy, Orkney; Hoylake, on the Wirral and Calshot in Hampshire. The second weekend (which was 19/20 May) saw poor band conditions on the Saturday resulting in less than 50 QSOs. There were a few Maritime Mobile stations, one of which was a Tall Ship from Bergen and was located just off Shetland. The Sunday started with deep QSB on the band, but perseverance brought the total tally up to 213 QSOs for the two weekends.
In the middle of the month was the Mills on the Air weekend, held at Gleaston Water Mill on 12 and 13 May. GB2GW was on the air for both days, unfortunately band conditions were not great but a total of 80 QSO's were logged across 40m and 80m (with 80m providing the most contacts). This included 18 other Mills on the Air stations in the UK and the Netherlands.
Club nights were well attended, with club member Mark, M0NOM, doing a very entertaining and informative talk and presentation on his SOTA activities. Later in the month club members met on Birkrigg Common for a portable evening. A sked had been arranged for 5.6GHz ATV so members could 'see what all the fuss is about' and witness some 2 way ATV QSOs as they happened.
Thanks to club members to took part and/or supported all events.
APRIL 2018
Furness Amateur Radio Society celebrated World Amateur Radio Day in 18th April by running special events station GB4ARD. The station ran from 09.30 local time to 17.30 on 20m and 40m, conditions on the bands were not great but perseverance resulted in 63 QSOs in 23 countries. Highlights included GB106TBC, a special events station celebrating 106 years since the launch of RMS Titanic and the best 'DX' was a 4Z4 station in Israel. All other QSOs were in Europe, with Germany, Italy, Spain, Finland and Denmark taking the lions share.
The Furness Amateur Radio Society 5.6GHz ATV team have been doing good work since the weather improved. Teaming up with members from the Wirral club (who have travelled into a number of sites in Wales) a number of 2 way ATV contacts have been achieve between South Cumbria and North Wales with distances of 92km, 101km, 120km, and 139km worked at P5 / P4, and there is plenty left in the signal for further distances. Its been discovered that some of the quoted '600mw' tx units are actually only putting out 50mw so these paths are even more remarkable on considerably lower power than expected.
A path of 153km was worked on 21 April from Kirkstone Pass in Cumbria to near Bylchau in North Wales with an average of P4 both ways. The picture shows Chris M0KPW and Nick G0HIK with their ATV stations. If you are interested in arranging a 5.6GHz sked into South Cumbria please drop us an email at info@fars.org.uk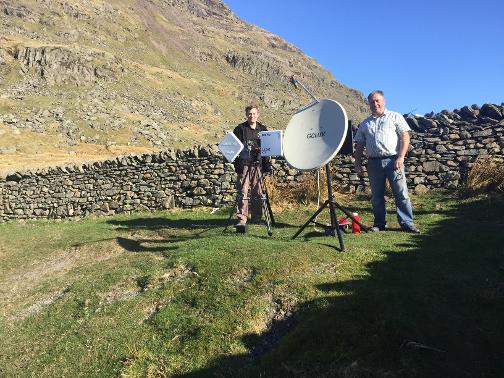 MARCH 2018
Furness Amateur Radio Society has been busy over the last couple of months. Chris, M0KPW, gave an interesting presentation on how to build a cheap (but effective) 20m helically wound vertical antenna as described in RadCom last year and originally from the 1976 ARRL Handbook. Using bits from the shack, Chris explained how the antenna was built, along with a 1:4 UNUN, how easy it is to tune and explained that so far running between 75 and 100w SSB contacts have been had into EA, EA8, EA9, DL, F, I, CT, OZ, SP to name but a few.
Members of Furness ARS have been suggesting ideas for how to improve the club stand for the Norbreck Rally, and it is hoped that this year they will have an improved club stand design with better signage, lighting and display area. As Furness ARS won the best website trophy at last years NARSA rally, they have been busy judging the winner for 2018. It's no mean feat going through 40+ websites and narrowing it down to a winner, but we got there and the winner will be kept under 'lock and key' until 29 April.
As the WX was not been the best over the last few months, the Furness ARS ATV project has not had much opportunity to get out and 'on the air'. There were a few cancelled activity weekends due to rain and wind when there has been arrangements to make contact with other clubs, but it is hoped than now we are into Spring and (hopefully) better weather these inter-club ATV contacts can now take place.
DECEMBER 2017
Furness Amateur Radio Society held an end of year surplus kit sale in December. Club members were able to sell, gift or exchange kit with each other. The night was accompanied by mince pies, cheese & biscuits and other festive fare. A lot of the kit was sold on the night in question, but allot of it also went home with who it came with!
Over the last few months members of Furness Amateur Radio Society have been busy working on 5.6GHz ATV, with a number of systems being built and tested. Work is on going and test have been very positive with signals being received over 10 miles away. There's plenty of work to do yet and further distances will have been achieved by the time you read this. But if any other clubs or individuals are working on 5.6GHTz ATV and would like to arrange a sked into the Cumbria hills with members of Furness ARS please get in touch at furnessamateurradio@outlook.com There are lost of potential sites for line of sight over the North West and beyond.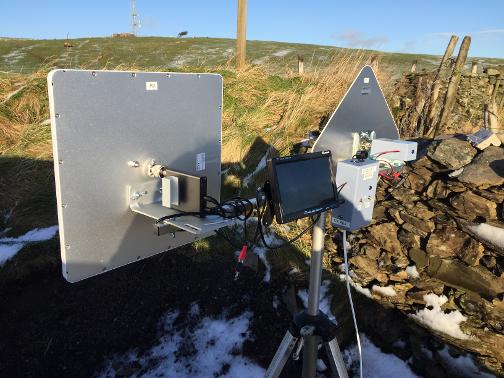 OCROBER 2017
At an October meeting of Furness Amateur Radio Society Chris M0KPW and Nick G0HIK delivered a pretension on a new club project for 5.6GHz ATV. This came about from a short article in the September 2017 edition of RadCom that stated 5.6Ghz ATV could be achieved by using cheap 'First Person Video' transmitters and transceiver units (intended to be used in drones), Chris M0KPW thought this might be an interesting project for Furness Amateur Radio Society.
After some more information was sought from British Amateur Television Club (BATC) Chris ordered some suitable units from China (via ebay) to create 2 retransmit and receiver stations . A few weeks later club member Nick, G0HIK, made a start on one of the stations.
The presentation gave a background of what had been learnt so far and ended by encouraging other club members to get involved in the project. Be it constructing suitable antennas/dishes, fabricating brackets for attaching dishes to tripods, building relays and a host of other jobs to make the project succeed. The plan is to get the two stations operational and transmitting and receiving over a short distance – across a room or short open space area. Ultimately building up to working over a distance of many miles in the Cumbrian hills.
October 2017 saw Furness Amateur Radio Society operate GB2FSR from the 2nd Ulverston Scouts for JOTA.
At the request of the scouts, this year only a one day (Saturday) event was required. Set up began at 8am with the rigging of a 10m mast to accommodate a 40m dipole for use with the clubs Icom IC7300.
Other activities were set up including a CW station, where scouts could practice sending their names in more codes. There was a simple design a QSL card activity as well as create your own phonetic alphabet, just for a bit of fun.
One of the most popular items was the 'helmetcam', which is a wireless video camera mounted to a helmet that the scouts wear and others watch their received signal on a TV screen and use a yagi antenna to improve their reception. PMR radios are also used allowing the scouts to communicate to each other.
Early morning discussions with one of the scout leaders indicated this might be the last year of our JOTA involvement for a couple of years as there had not been allot of interest from the local scout groups for this years event, suggesting that interest may have waned – so there were thoughts of 'resting' for a year or two.
We were very pleased to see this was not the case and we saw a good number of beavers, cubs and scouts pass through the doors during the course of the day.
As well as the other activities, there was not a 'scout' who visited who did not pass greetings messages on 40m. In total we gave out 26 badges and certificates for 'passing a greetings message' - indicating 26 scouts had passed messages - some passed multiple messages and were very enthusiastic about radio. This may not seem like a large number, but for small scout groups in South Cumbria this is a good results and an improvement on recent years.
After an initial CQ we managed to stick to one frequency for nearly 7 hours of operating, with some mini pileups. The QSO count was 65 for the one day - no mean feat when some lasted 30 minutes or more passing and receiving greetings. With the exception of France and the Netherlands all other QSOs were inter-G (G, GM, GW, GI, GU and GJ - no GD for the compete set). We worked 28 other JOTA stations, some numerous time, including :
GB2JAM - 1st Birkenhead Scout Group, GB1SJM - 1st Margate (St John's) Scout Group, GB2GU - Guernsey Scouts, GB1HS - 1st Hainault Scouts, GB5SUS - 5th St Ives Scout Group, GB1CUB - 1st Bromsgrove Scouts, GB2GCS - Grimsby Cleethorpes District Scouts and GB4PS - 4th Portadown Scout Groups to name but a few.
By the end of the day there were 3 scout leaders asking us to take part again next year, so nice to see the enthusiasm is still there and we look forward to taking part again 2018.
October 2017 - FARS in Northwest Evening Mail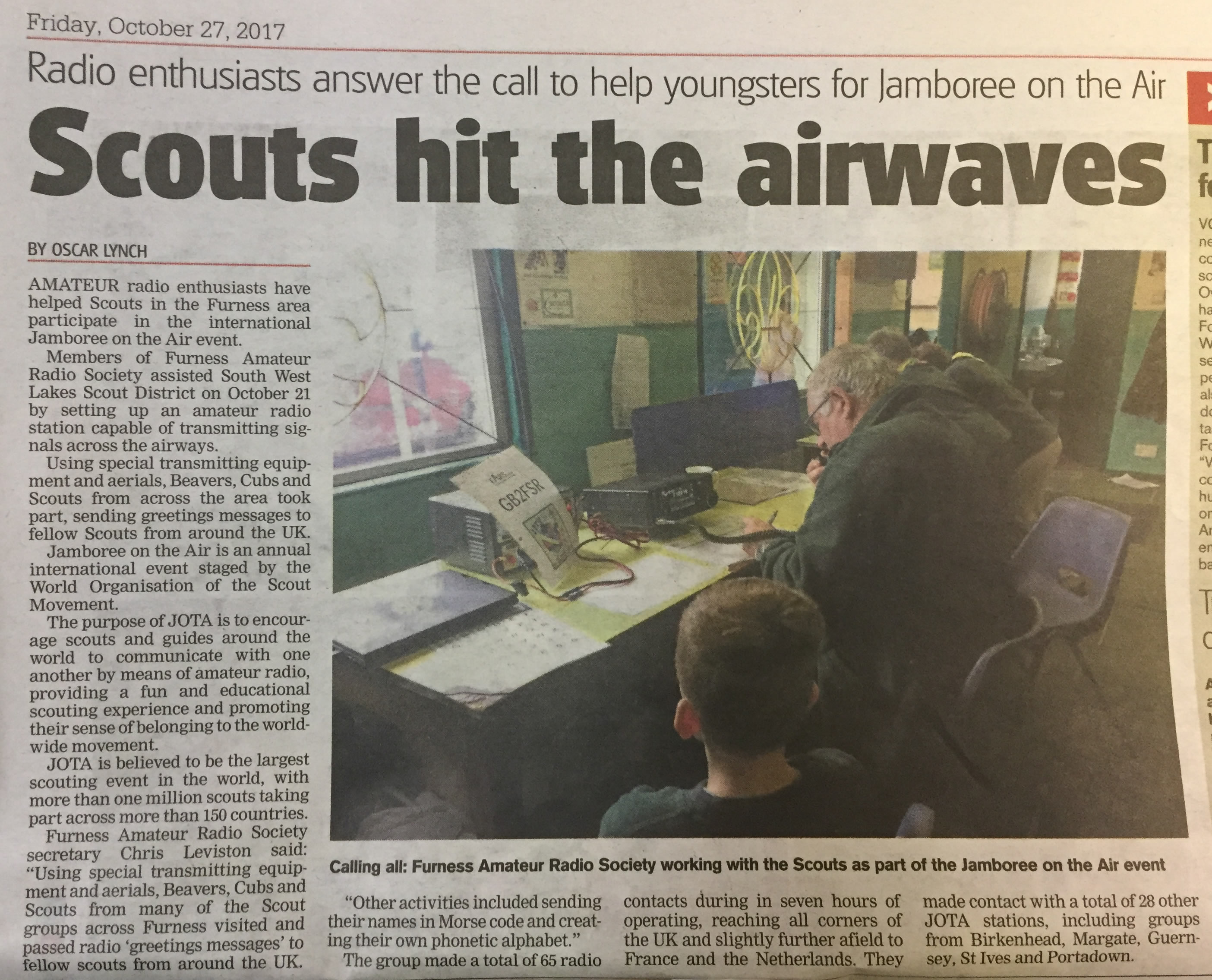 SEPTEMBER 2017
Furness Amateur Radio Society held a demonstration of data modes at a meeting in September. Chris M0TES demonstrated the WSJT-X software, focussing primarily on JT65 and WSPR. Showing the setting up of an FT991, the protocols involved and format of QSOs, plus some background information on data modes. Also included was a demo of the Sotabeams WSPR Lite unit and software, along with the original WSPRnet website.
Chris M0KPW followed this with a specific look at the FT8 mode, available with version 1.8 of the WSJT-X software. Using his IC7300 and laptop Chris showed the process of setting up the mode and the ease at which QSO's can be had, across 40, 30 and 20m stations worked were CT1ERW, SP4TKR, IU4ASI, S57DD and EA5DM over a short period of time.
The evening was well attended by members of Furness ARS, plus a visiting MW6 and local SWL who were welcomed to the meeting.
Lakeside and Haverthwaite Railway is located in the Leven Valley at the southern end of Windermere in South Cumbria. It's a historic branch line which was closed and then taken over in 1970 by a small but dedicated band of permanent staff and volunteers have worked tirelessly ever since to protect and improve the railway.
The last weekend of September saw Furness Amateur Radio Society taking part in the annual Railways on the Air event with special events station GB2LHR, operating as usual from the Lakeside & Haverthwaite Railway.
There were favourable conditions on the 40m band with 76 QSOs on Saturday and 58 on Sunday, totalling 134 QSOs and 12 DXCCS. The number of QSOs is down on previous years, but given the recent conditions the QSO haul was reasonable The station comprised an Icom IC7300 and 40 dipole, despite some initial generator problems all equipment worked well, with many reports of S9. If you work 10 or more fellow ROTA stations you qualify for a special certificate, Furness Amateur Radio Society was pleased to qualify again this and receive the certificate for the tenth consecutive year.
This year, in addition to the many other amateur radio stations in the UK and Europe, Furness Amateur Radio Society also made radio contact with the following railway radio stations :
GB4BCR - Babbacombe Cliff Railway in Torquay, Devon
GB0BR - Bluebell Railway in Horsted Keynes, West Sussex
GB2KDR - Dufftown railway station in Dufftown, Scotland
GB2OCG - Eastbourne Miniature Steam Railway Adventure Park in Eastbourne
GB1NYM - North Yorkshire Moors Railway in Pickering
GB4SR - Swanage Railway in Wareham
GB0CVR - Colne Valley Railway in Castle Hedingham
EI2WSVR - Waterford and Suir Valley Railway in Kilmeaden, Co. Waterford
GB4MHR - Medstead & Four Marks Railway Station in Hampshire
GB4HMR - Hoddesdon Model & Railway Club in Broxbourne
GB0ROA – Avon Valley Railway in Bitton, Bristol
GB4HSC – Hollycombe Steam in the County in Liphook, Hampshire
GB0SRP - Shillingstone Railway Project
GB2SDR - Buckfastleigh Station, the main terminal of the South Devon Railway
Furness Amateur Radio Society has always been made very welcome by the team at Lakeside and Haverthwaite Railways and we thank them for their continued support and we look forward to returning again in 2018.
AUGUST 2017
At a Furness Amateur Radio Society meeting in August, Chris M0KPW and Nick G0HIK gave a talk and presentation on their building of short boom, 2 element 6m yagi antennas. The presentation covered the theory of the antenna and the construction methods. The end results of the two antennas were the same, but it was explained that Chris used 10mm aluminium in 1m lengths that were joined together (which allows the antenna to be used portable if requited), where as Nick used 12mm aluminium in single lengths more suitable for permanent installation.
Following the presentation, one of the antennas was set up outside in the hope of working some late season QSO's. Unfortunately the band was not open, but the antenna was tested on a a host of analysers including a VNA which showed less than 1.1 SWR and an impedance of exactly 50ohms. The presentation was well received a number of club members are planning on building the antenna ready for next years 6m season.
Lighthouses on the Air... A team from Furness Amateur Radio Society set up amateur radio station GB2JMB at the Sir John Barrow Monument, know locally 'The Hoad' to help celebrate the International Lighthouse and Lightship Weekend held on the 3rd weekend of August each year.
Although not an official lighthouse, The Hoad is modelled on an Eddystone Lighthouse and is easily one of Cumbria's most recognisable landmarks.
An aerial was rigged to the flagpole in near gale force conditions, but thanks to some excellent rigging skills, the antenna stayed in position all day. Due to access it was only possible to operate for the one day – Saturday – but contacts were made with a number of other lighthouses on 40m and 20m including 'Naze Tower' in Walton, 'Burry Port Harbour Lighthouse' in Wales, 'Barnes Ness' in Scotland, 'Fluegge Lighthouse' and 'Wehldorf Oberfeuer' both located in Germany, 'Wadden Island' in the Netherlands and 'La Lanterna lighthouse' in Genoa, Italy
Contact was also made with two light ships in Germany, 'Lightship Elbe I - Burgemeister O"Swald II' and 'Amrumbank' which was originally built in 1914.
Contacts were also made other stations within the UK, Germany, Italy, the Netherlands, Austria and Solevia. Although the monument was closed to the public on the days in question there were a number of people who took shelter from the wind and rain and the team education those interested about Amateur Radio in general and also about the Sir John Barrow Monument. It is hoped Furness Amateur Radio Society will be able to return to the site again for 2018.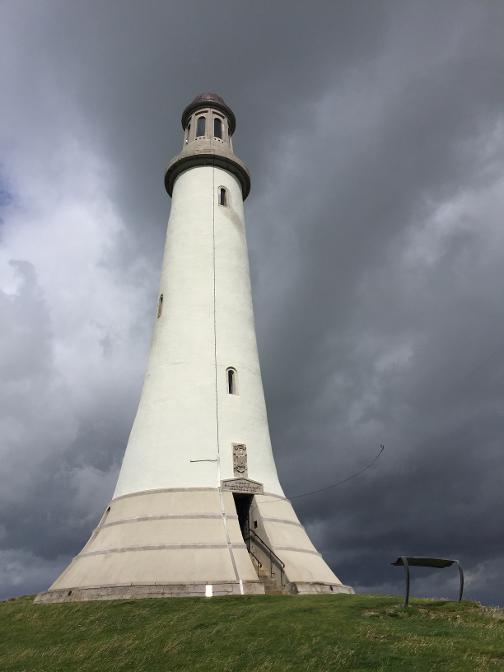 JULY 2017
In June Furness Amateur Radio Society ran their first full 2m radio Fox Hunt for a few years. Covering the SD27 square, teams set out to find the cunningly hidden fox on a glorious June evening. The winning team consisting Chris M0KPW, Martyn M0TEB and Andrew M6GUM found the fox in just under 35 minutes. Not bad for the teams first outing! A rematch is planned for later in the year.
Early July saw the annual Furness ARS summer BBQ held at the beautiful location of Gleaston Water Mill (which is also the venue for Mills on the Air earlier in the year). We were blessed with the best weather of the week and around 20 club members and family attended. There was plenty of good food and good chat, and a very enjoyable evening was had by all. The end of July also saw Furness ARS take part in a local family fun day. A demonstration station was put on and the hex beam antenna certainly drew lots of attention. Although there was a considerable amount of noise from some of the 'fun fair' activities, the station was able to make a number of QSOs into Europe and a number of people expressed an interest in the demonstrations and Amateur Radio as a whole.
MAY 2017
Furness Amateur Radio Society again operated GB2GW for the Mills on the Air weekend from Gleaston Watermill in Gleaston village, South Cumbria. Setting up on the Friday evening went swiftly with the FARS club caravan moved into into position in front of the mill. Gleaston Watermill is owned by club member Mike, G8ALE and a large delta lop antenna is permanently installed at the location. The club has recently purchased an IC7300, and this was the rigs first official outing.
Unfortunately 40m band conditions on Saturday were so poor that only one QSO made until 2pm when the band slowly started to improve, but remaining unstable. Thanks to the persistence of operators Tom M6NER, Jim M0KYL and Mark M6ZVD the score reached the dizzy heights of 19 QSOs for day 1. All stations worked remarked on the poor conditions and the difficulty of making contacts This was markedly worse than any Special Event station for many years.
Sunday wasn't much better, but there was an improvement. The first QSOs was shortly before 10am, but progress was slow with deep QSB. During the morning an early afternoon the QSO count moved from 19 to a final of 54 (including 11 other Mill stations, which is considerably fewer than previous occasions).
As always, thanks to those who took part for all the effort over the weekend, and we look forward to the next Special Event where band conditions will hopefully be better.!
APRIL 2017
Furness Amateur Radio Society again attended the NARSA Norbreck radio rally, with a club stand demonstrating projects including ARDF receivers and beacons, Halo Antennas, and restoration of old equipment. There was a slide show of recent club activities, plus the sales of members surplus kit.
FARS were very pleased to win the Club Website Shield, which was collected by FARS secretary and webmaster Chris M0KPW. Club member Nick, G0HIK was the winner of the Bill Sparkes Construction Competition trophy, with his superbly constructed 'Paraset'. Nick used original components to build the 'Paraset' which involved scouring from rallies, the internet and his 'junk box'.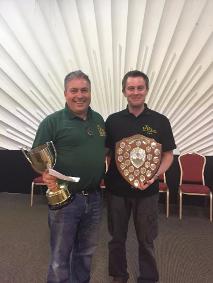 February 2016 - FARS in Northwest Evening Mail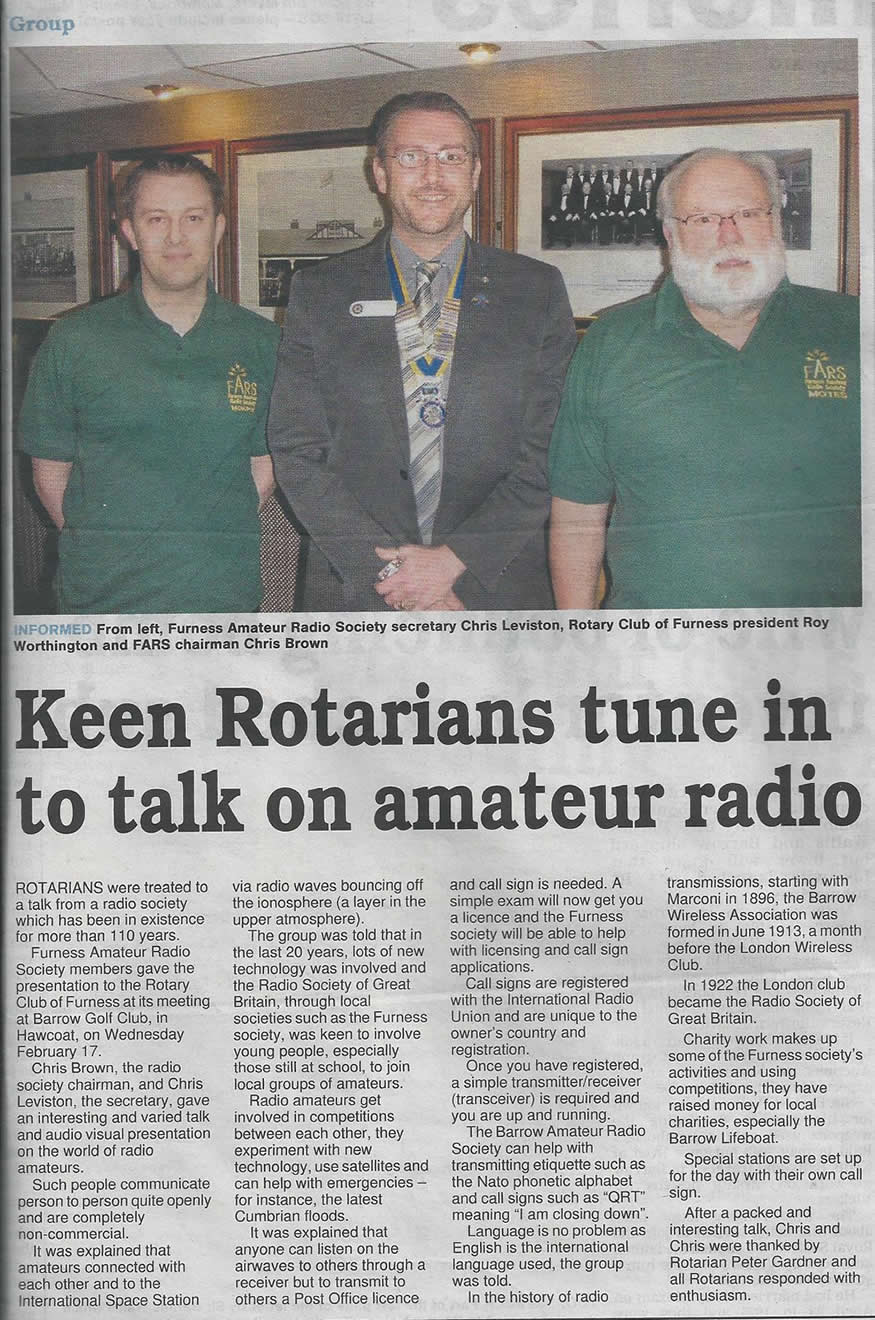 April 2015 - FARS Members present RNLI with cheque for monies raised during SOS Week 2015
Members from Furness Amateur Radio Society presented Barrow lifeboat station with a cheque for £1020 from the monies rasied earlier in the year from the SOS radio Week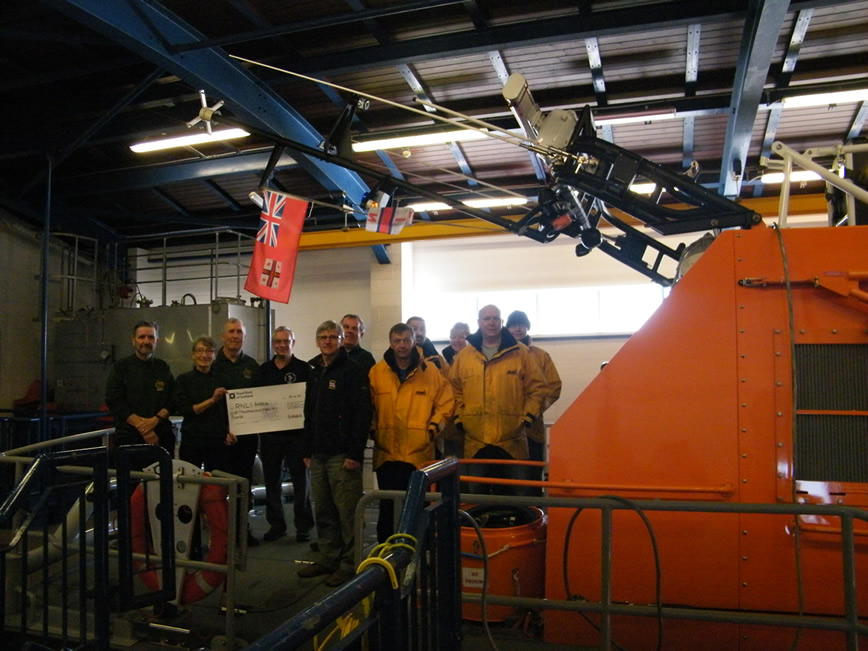 28 January 2015 - FARS in the South Lakes Citizen newspaper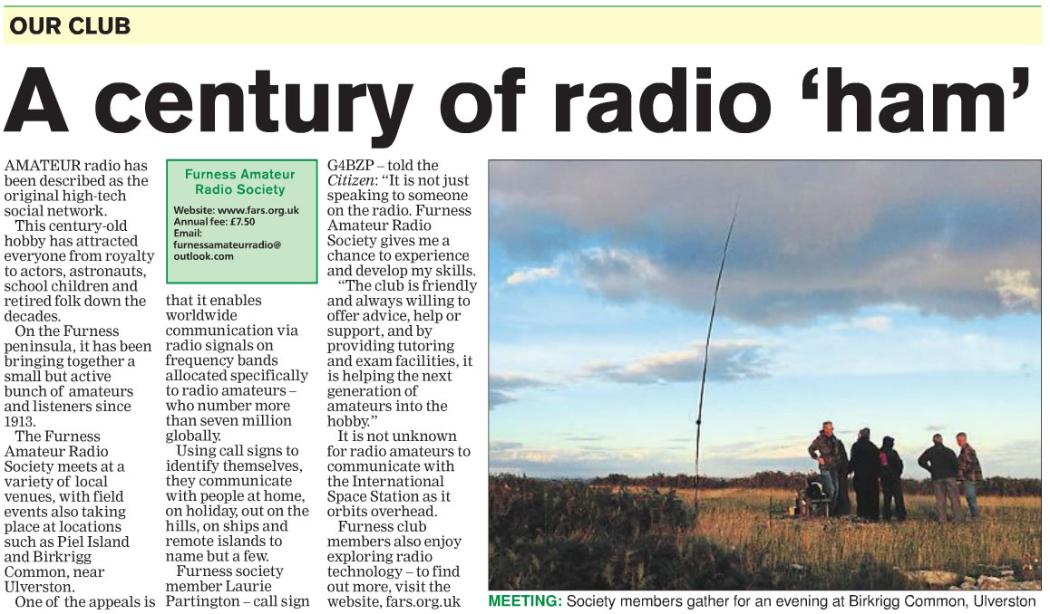 24 september 2014 - birkrigg activation
In late September Furness Amateur Radio Society held an outdoor 'On Air' evening on Birkrigg Common (IO84KD) near Ulverston, Cumbria. Members met from 6pm and brought along their own equipment including an IC706 Mk IIG and FT857 along with a 20m fishing pole vertical and 40m inverted V. For VHF various hand helds were used.
Reasonably pleasant weather and band conditions were enjoyed, and the clubs call sign, GX4ARF(/P), was used. 20M QSO's were into Europe with Far East heard but unfortunately not worked. Whilst on 40m, 50 watts into the inverted V resulted in a good crop of inter G stations, including MX0LTC at the Sidmouth Observatory.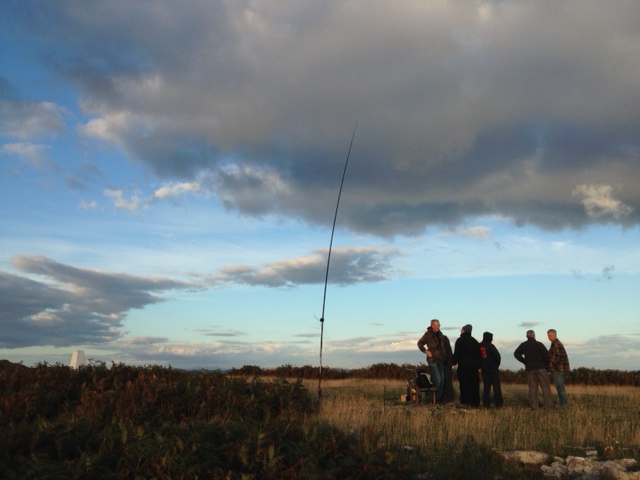 Submitted by Chris, M0KPW
20 AUgust 2014 - lighthouse on the air weekend
For the 3rd year running Furness Amateur Radio Society operated special events station GB4WIL from Walney Island Lighthouse (UK0160) in Cumbria for the International Lighthouse and Lightship weekend in July.
The current stone lighthouse, which was built in 1803, stands on the site of the previous wooden version that was built in 1790 but later destroyed by fire. Members from the club arrived on site on Friday afternoon for setting up the 40m dipole antenna and equipment to form the station from the clubs 'portable shack'. A few members stayed on site on the Friday night and enjoyed a BBQ before retiring ahead of a busy weekend of operating. More club members arrived on Saturday and Sunday to compliment the the operating timetable.
40 metres was in good shape for the weekend and a great number pile ups were worked. The total number of QSO's was 340, which included of 35 other lighthouses / light vessels.
The breakdown of QSO's was : 183 England, 21 Scotland, 18 GB calls, 6 Wales, 4 Northern Ireland, 1 Isle of Man, 36 Germany, 33 Holland, 16 Eire, 8 France, 5 Belgium, 2 Switzerland, 2 Sweden, 2 Finland, 2 Denmark and 1 Spain.
A very enjoyable weekend was had by all, and members look forward the annual Railways on the Air event in September.
View a selection of photographs from the activation

Submitted by Chris, M0KPW

30 MAY 2014 - activation of Peil Castle for CASHOTA
Members of FARS activated Peil Castle on Piel Island, Barrow In Furness, for the Castles and Stately Homes on the Air weekend of 17th and 18th May 2014 using the callsign GB2PC
Furness ARS has for many years participated in various regular events, Mills on the Air, Railways on the Air and of course the Lifeboat one. A few of us enjoying the Curry Night at Weatherspoons discussed and resolved to attempt, to activate Piel Castle for the CASHOTA weekend. There were patently many important challenges to consider , principally accommodation for a station and for operators, with tents being the obvious solution. However my son Michael advised me that one of his friends actually owned one of the Pilots' cottages in a terrace actually on the island and thought that we would no doubt be welcome to use it.
The owner, Steve, later took us over , across the sands at low water, and showed us the house, it had everything we needed, potable water via a standpipe, fully equipped kitchen, bottled gas for cooking , beds complete with mattresses, together with a flush toilet in an outhouse, and a gas fired domestic water heater. There was even a 5 KVA or so diesel generator – a fearsome beast indeed. All that remained to organise was the carriage of the station and personnel to and from the island on the Roa Island ferry which was speedily accomplished in phone call to the operator.
The station would be comprised of M0MYK's FT5000 and the Hex-beam, and I would supply a 40 metre coax fed dipole and FtT7900 for 2 metres, together with the Club's 2 metre co-linear. We resolved not to use the diesel generator and take my 1 KVA portable one which I considered quite capable of running the 200 watt TX, on SSB at least.
Forces involved would initially be G3IZD, M0MYK and M6CVD, and we duly met at Roa with all the assembled kit, at midday on the Friday afternoon, and man-hauled it all down to the pier, loaded it all on the boat and unloaded it at the Piel pier and then on to the house , some 200 yards. Mark M6ZVD joined us later that afternoon at the end of his shift at the salt-mine. This took several journeys but thankfully we had borrowed a small hand-cart from Mile ALE which certainly made the task easier, the FT5000 in particular is a large and heavy brute, and we also had a considerable quantity of coax and a large reel of heavy multi core cable for the rotator. It seemed that planning and preparation paid off exceptionally well with the only missing item a 3mm to ¼ in adaptor for the footswitch which Mark produced later.
First job of course was the erection of the two antennas, with Mark and I putting up the 11m mast for the dipole and Mike and Clive the mast and rotator for the beam, which was then carefully assembled. Clive did a great job splitting the very large flat multi-core down the middle joining the two and connecting the rotator to its controller , whilst Mark was beefing up the kitchen table in order that it would take the weight of the radios, laptop, rotator controller etc. In good time all this was completed and the station was ready for testing, with the generator started, everything powered up nicely and the rotator worked correctly, however the band sounded very quiet indeed, suggesting possible faults in the coax cables. Then big signals were noted on the panoramic display and it was realised that, with no mains electricity, there was no electrical noise and the noise floor was indeed " on the floor ", a novel experience indeed. In fact there was essentially unity SWR on all bands from forty to six metres and no ATUs employed. Conditions on the higher bands were certainly not very good but we had token QSOs on them all, duly switched off and went to the pub for evening meal such as to get back in time for the FARS HF sked, switched to forty as we had no antenna for 80. We had arranged to have all meals except breakfast to be taken at the pub, in fact Mark had previously worked with the Piel reigning " King and Queen" . The meals were always excellent , as was the beer ( from Ulverston ) !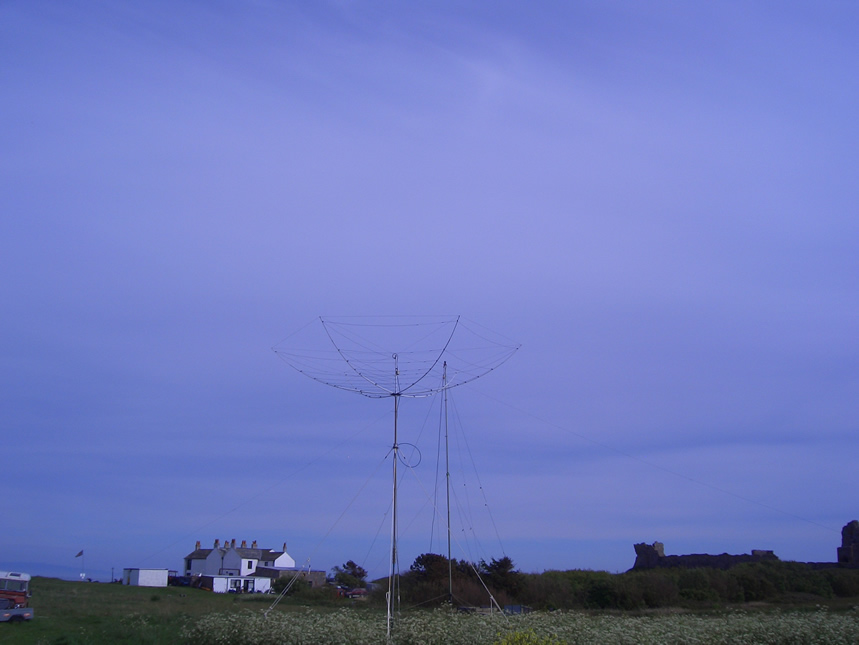 View a selection of photographs from the activation
Operating with the GB2PI call started the next morning at 0520 on 40 with 160 Qs in the log by 1020, so around one QSO every two minutes. The HF bands remained poor during our trip , with only one decent run, on 17 metres for 73 QSO over an hour or so. Whilst Mike, Mark and I were gathering Qs in the pile-ups Clive was dismantling a scaffold tower in the back yard which had blown over , but he did enjoying working DX when we reverted to chasing it, using our own calls, at night on return from the pub .
Final results were as follows
BAND 10 12 15 17 20 40 Total
QSOs 2 9 12 79 3 317 424
DXCC 2 8 9 28 3 17 68
Interesting DXCCs included 9H5 ,A41 ,GM/MM( Antarctic survey ship) , PR, W/K ( All call areas), VE, ER, OX, ZB2, EA8, J79 (Dominica), P4, LU, 8P ( Barbados), CO, FG, YV, JA, VK, 4L, WL7 (AL), SV8, 5B4, JA. Our last GB2PC was with YV5EPM, Venezuela, at 2137 on 20m at which time we started dismantling the station , boxing up but leaving the antennas until the next, Monday, morning. During the weekend a couple of permanent residents on Piel had offered , no insisted, on carrying all our gear back to Walney via the sands instead of using the ferry. As I had actually fixed the ferry and confirmed the time, we managed to convince them that we at least needed to put the masts on the boat. So, by 1100 the two vehicles were loaded and set off across the sands, accompanied by Mike, whilst Clive and I, with our vehicles at Roa Island anyway , caught the ferry.
Soon we all met up at Walney and put the correct gear in the correct vehicles and set off to our respective home QTHs. In summary, following much discussion and meticulous planning ! plus considerable hard work, we had a most successful and rewarding weekend with excellent weather and the friendly help and support from the island's ( indigenous ? – maybe not ) population.
Submitted by Ivan, G3IZD
9 May 2014 - FARS Press Release
Furness Amateur Radio Society took part in fund raising during January as part of SoS week in support of Barrow RNLI. After finally collecting all the sponsorship monies, were recently able to hand over a cheque for £1000 to Shaun Charnley, the Coxswain of Barrow lifeboat. (The photo shows two Furness ARS members, Dick Smith M0RBE & David Latimer G3VUS handing over the cheque with the rest of the lifeboat crew in the background.)
Furness ARS have done this previously and in the last three years have raised £2,500 in total for the Barrow crew.
Since Furness ARS celebrated 100 years of amateur radio in Furness in 2013, we feel strong links to our local area and this is one way of demonstrating that. We also have helped local Scout groups with Jamboree on the Air stations and are taking part in the activities at Gleaston Water Mill as part of Mills weekend.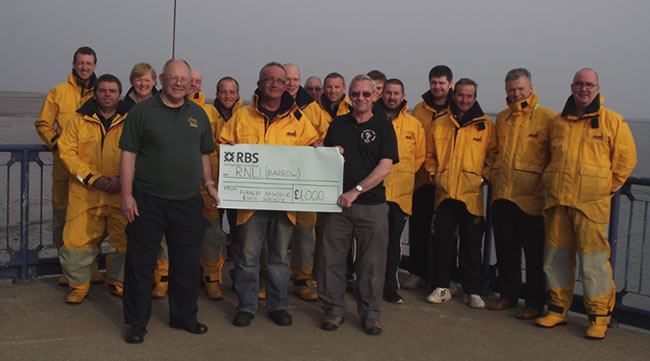 G3VUS and M0RBE present Barrow Lifeboat crew with £1000
Submitted by David Latimer