FURNESS AMATEUR RADIO SOCIETY

Representing Amateur Radio in Furness and South Cumbria for over 105 years!
We offer a warm welcome to the website of Furness Amateur Radio Society (FARS) and thanks for stopping by. We are a small but active bunch of amateurs and listeners who predominantly live on the Furness peninsula of Cumbria, in Northern England.
We also have members elsewhere in this country who wish to maintain involvement with the club. We are an affiliated club to the RSGB and a member of Northern Amateur Radio Societies Association. 2018 celebrates 105 years since the formation of the Barrow in Furness Wireless Association - the forefather for the modern day Furness Amateur Radio Society, one of the oldest radio clubs in the UK.
In early August a cheque was presented to Barrow Lifeboat station for £650, which was monies raised during May's SOS radio month. In total over £6000 has been raised in recent years for Barrow Lifeboat with the annual SOS weeks, congratulations and well done to all those members who take part and raise money for such a worthy cause.
August also saw a portable meeting take place near the beach on Walney Island, Barrow. After raining all day, the rain stopped in time for members set up an array of antennas and equipment from HF to microwaves. There were HF dipoles, loop and vertical antennas, VHF whips and hand helds, dishes and panel antennas for the microwave bands. It was one of the biggest arrays of antennas and kit for a portable meeting in a long time, with contacts had on FM, SSB, CW, Satellite, Digital and ATV.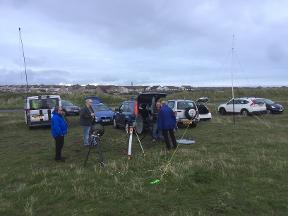 About Furness Amateur Radio Society
In 2013 we celebrated 100 years of Amateur Radio on the Furness area using the call GB100RXY. We have a regular weekly skeds on the air on HF usually 80m followed by 2m but we also have meetings alternating between the Farmers Arms, Newton-in-Furness and Hawcoat Park Sports Club in Barrow-in-Furness. The club will also meet on occasions at Gleaston Water Mill which remains a club venue and is owned by a club member. Our club call is GX4ARF and this is put on the air from various venues through the year. We participate in several Special Events each year such as SOS Radio weeks, Railways on the Air, Mills on the Air, Lighthouses on the Air, JOTA and raise money for our local lifeboat station. We have taken part in SSB Field Days and have for several years taken part in the 80m Club Contest fielding SSB, CW and Data stations, averaging position 8 for the last few years.
If you are holidaying, working or just visiting the Furness area and wish to meet some local amateurs, then you will be assured of a friendly informal welcome. Details of our meetings can be found here

CURRENT PROPAGATION CONDITIONS
You may need to refresh the page to update the propagation conditions
Press F5 or click the refresh button in your browser
Amateur Radio in Furness and South Cumbria | Copy Right Furness Amateur Radio Society 2019 | Web Master www.M0KPW.com